Anna Marie and Daniel had to go back home to reality.  I was staying with the boat to get some maintenance done, familiarize myself with the vessel, as well as try to work from afar.
I enlisted the services of three different independent contractors to do some cleaning/waxing.  All three did very good work, some pricier than others.  In the end, I opted to give most of the work to Kabooms (Booms for short).
Booms is an elderly gentleman, and the one most in need of the work.  He was on the dock the morning we got back to the marina.  He grabbed the bowline from Daniel and tied us off.  We got to talk, and I gave him a shot.  He seemed to be an honest man, and because of his age and speed, he was usually last in line for available work.  However, I did have to keep an eye on him.
I was paying him hourly, and he had a tendency to disappear.  Sometimes for a few minutes to go to the restroom, and sometimes quite longer to go…?  Regardless, I decided that Booms was to be assigned most of the cleaning and polishing chores, and he was also to be enlisted to wash the boat while we were away.
During this time, the Atlantic Rally for Cruisers (ARC) was well underway and boats were arriving to the marina daily.  The ARC attracts over 200 boats and leaves every year from Grand Canaria, traveling some 2700 nm to finally arrive in Saint Lucia.  It was really cool to watch the boats come in.
Regardless of the time of day, horns blew as they entered the marina.  The sailors were greeted at the slip by an ARC welcoming team, made up of two or three people.  They passed out Rum Punches, Beer, and a Fruit Basket.  During daytime arrivals, they were also greeted by a steel drummer and vocalist (sometimes) who were both pretty awesome.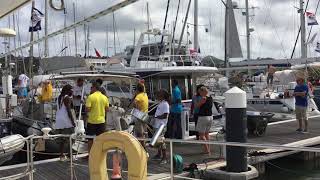 VIDEO – ARC Welcome Ceremony
After a day of working at the boat, keeping tabs on Booms,  and chasing wifi (I'll get into that later), I would head up to the marina business area, and find some dinner at my favorite eatery – the Bread Basket.
Here, Arnold, Leron, Fushen and Shanna would serve up (in my opinion) the best food available in the area, with the absolute best service.
After dinner, I would usually head over to the Boardwalk Outdoor Bar.
Here, all the recent arrivals from Las Palmos were celebrating their major accomplishment of crossing the Atlantic Ocean.  It is here that I met some amazing people.
One of the best groups of people I met, was this group of Germans.
These men were incredibly nice, down to earth, people.  This photo was taken during a sail on their catamaran, Intreped Bear, from Rodney Bay Marina down to Marigot Bay.  Only a couple days after meeting them, they were gracious enough to invite me along for this beautiful trip.
Alex is the Captain's (Stephan's) son, and is an extremely nice young man whom I became quite fond of.  He has aspirations of doing some kind of internship in the States, so I put him in touch with the Admiral (Anna Marie), who is quite familiar with how to go about locating opportunities that would suit him.
A couple days later, I met this man, Javier.
Javier is from Spain.  He had come across with some friends that were docked next to me.  Their boat, Il Duplo, had won a contest on the 'other side', before they left.  The prize was a Spanish ham (Jamón serrano).  I was invited to an afternoon celebration to enjoy their prize.  Javier ended up spending a couple nights with me on the RK, while Il Duplo took a short trip over to Martinique.
The following night, Javier introduced me to this incredible group of men.
Lars is from Denmark, while Bas and Joan are long time friends from Spain.  I met them about an hour after they arrived.  These three men met in Grand Canaria with the same mission – to find a boat in the ARC that needed crew.
They found a vessel Captained by a man named Joost.  This Captain ran a charter vessel, which was registered with the ARC for the trip, and was scheduled to make the crossing.  They each paid a fairly substantial fee for the privilege to travel on this vessel, and became good friends during the journey.
It wasn't long after departing, that the three of them started to question the soundness of their Captain (you can read their version here Bas and Joan Blog).  There was evidence that the Captain was drinking way too much, and some of his decision making seemed way out of line.  At times, especially towards the later part of the trip, they questioned their safety.  They were extremely happy this evening that they had arrived, and arrived safely.
Although their initial plan was to continue on with the boat to Antigua, they had decided that once they got to Saint Lucia, they would try to find another boat to travel with.  With the help of one of the amazing staff in the marina office, Menin, we were able to find them a place to rent, while they attempted to make other arrangements.
Bas and Joan had met Rodrigo and Alba, who were two fellow Spaniards, also looking for a boat to sail on as well as a place to stay during the interim.  As the apartment was large enough for all, Rodrigo and Alba stayed a couple nights and shared expenses.
They also met the crew of Iemanja. This 105 foot yacht was one of the first to cross the finish line.  I was lucky enough to share a tour of this amazing vessel.
Over the next few days Lars, Bas, Joan and I became good friends.  Lars and I would get together for coffee in the morning, and our evenings would usually be spent as a group.  Lars and I became very close, and shared some intimate details about ourselves during our conversations.
During the day, I was chasing wifi.  As I am still working, I had emails to answer, phone calls to make, and some other work chores that required the internet.
Using the free wifi from the marina was almost useless during the day, as with so many visitors from the ARC, we were all trying to share the same pipe.  I found the best wifi in the marina to be at the Bread Basket, so I would often go there, but even that was taxed sometimes with the crowds they had.  So, I would travel from restaurant to restaurant in the marina, looking for the best connection.  On a couple days, I walked up to the apartment Lars, Bas, and Joan were renting, to use their connection.  Eventually, I would get my work done.  However, it was a most inefficient way to do business.  I was learning what island time was all about.
While enjoying lunch or dinner at the the Bread Basket, I was often joined by Michael from Great Bear, or Nicholas from Uruguay (sometimes both).  Nicholas has been in Saint Lucia for the past three years taking care of a 55 foot trawler for its owner.  He is an extremely nice young man, and I truly enjoyed his stories and company.
Michael and I became very good friends.  Michael is a retired urologist who made the crossing with his long time fellow German friends.  He is a very intelligent and gracious soul, and we had numerous, and truly awesome, conversations.  Often, we shared some very personal parts of our lives.  Other times, we would just shoot the breeze.
During one such conversation, I was telling Michael about a blog posting I had recently read on another friends website entitled Circus Act.  This posting by Mark on s/v Cream Puff was extremely humorous, and I paraphrased as best I could.  Michael went on to explain to me that Europeans call this type of story a "Harbor Movie", and when a situation arises that has promise, they sit down, fold their arms, and watch in anticipation.  He went on to say that he had starred in one such Harbor Movie, before they had left to make the crossing.
Captain Stephan was driving Great Bear into the fuel dock to the top off the tanks before departure.  Micheal was on the bow of the Cat to assist with docking.  One of the dock hands tossed him a line, but it was not a good throw, and he lunged to retrieve it.  When doing so, he tripped and landed head first between the deck of the boat and life life line of the railing.  Somehow in the process, his CO2 life vest was triggered, and upon activation, he became lodged in that location until someone could deflate the vest.  The sound of the vest actuating, made Stephan panic for a moment, as he thought they had run over a dinghy!  Michael explained that the situation made a very good Harbor Movie for those in attendance.
I met so many people during this three week period.  Some became good friends like Tracy, at the pool bar.
Tracy is a lovely young lady who was tending for the pool bar while I was there.  I would often stop by to say hello on my way to the shower, or stop in for a beer before or after diner.  We got to know each other fairly well, and I tried to help her as much as I could with her professional and personal pursuits.
Others were just acquaintances, like Wilby and his pet pooch Wolfie.
And still others just warranted having their photo taken.
From those first days when the boat became ours, until the day I departed on December 18th, I cried every day – sometimes more than once.  Some were tears of sadness, but most were tears of joy.  I felt so blessed to have fulfilled our dream and to be meeting these wonderful people, and having these amazing experiences.  Some of the memorable tears were when Anna Marie and Daniel arrived, or when I had to say goodbye to Micheal and Lars, but they were all good ones.  I think Michael said it best when we hugged and cried as he was leaving – "If it doesn't hurt, it wasn't good."